Get ready to set sail on a once in a life time journey across beautiful oceans. We've prepared a guide to help you get into this superyachting industry.
STCW
Before stepping foot on a Superyacht you first need the STCW or STCW-95 (Standards of Training and Certification of Watchkeepers). An STCW is a fun seven day course which is compulsory for anyone who wishes to begin an illustrious career working on any of the world's oceans. The course covers five areas: Fire prevention and firefighting, personal safety and social responsibilities, personal survival techniques, proficiency in security awareness and elementary first aid. Once completed you will have gained the main qualification required to join the industry of Superyachting.
The STCW course itself can be done in three different locations around New Zealand; Auckland, Tauranga and Nelson. Follow one of the links below to register for the STCW best suited to your location:
ENG-1 Medical
An ENG-1 Medical is a relatively basic medical test which is specifically designed for seafarers. This test ensures all seagoing personnel or crew are fit and healthy for sea. The test itself takes about an hour to complete with a specially qualified doctor and covers things such as hearing, vision, blood pressure, and overall physical condition ensuring you are in a good physical condition. After all, you wouldn't want to be stuck in the Atlantic ocean have not seen land for days feeling sick as a dog (kiwi slang).
There is only one place in New Zealand which does the ENG-1 Medical, Dr Richard Bratt in Parnell, Auckland.
Visit Parnell Medical's website to book your appointment today.
Writing a CV
Having the correct CV is vital for obtaining a job on a superyacht. If you follow the provided format you are putting yourself in the best position possible. Make sure when you are creating your CV you are really selling yourself and giving an insight into a potential employer who you really are, your values, and your interests. Don't be afraid to really sell yourself as you NEED to stand out!
Please also ensure your content and grammar is precise and professional otherwise this could be the difference between getting an interview and not getting any at all.
Please note that this CV template is a basic version of a yachting resume that is completely fine and acceptable. But for a much more professional CV that will significantly increase your chances of gaining employment, as a potential employer can see you are prepared to make more of an effort, leave it up to the professionals to do this for you.
Super Yacht Resume (SYR) has been innovating and providing the most successful yacht industry CV/Resume solutions and services since 2003. They are the most recommended CV service in the industry by crew agencies. Their site features a wide selection of fully customizable CV templates, created and delivered in both Microsoft Word and Apple Pages, for all positions starting at just $47 that all come with the widely praised CV Tool Kit which includes a comprehensive blueprint for creating a yacht CV that includes job description bullet points, skills lists, sample objectives, profiles, and most importantly, CV content strategies for every position with targeted approaches for different types of programs. SYR also offers full CV services for those that prefer solution. Contact them at SuperYachtResume.com
Use the code YONZME at the checkout to receive a 15% discount!
Professional CV Photography
At the top of your CV will be a very sharp photo of yourself.
It is important to have a professional photo taken wearing a smart white polo in a marina with yachts in the background which is the perfect backdrop. A photo in front of a white screen as a background will also be sufficient but we are trying to stand out which can be the difference between an interview and no interview.
Remember when you have your photo taken to look smart, professional and also employable; don't be afraid to put on that great smile of yours. Unfortunate as it may sound, in this industry you are judged on your appearance, so put your best foot forward.
Oh and for the guys, please remember to be clean shaven, the trendy beard or the lengthy stubble may have to go on hold for a little while.
Travel
Once you have completed your STCW, ENG-1 and CV, you are now ready to book yourself overseas!
Your destination will likely be, Antibes in France, Palma in Spain or Fort Lauderdale in Florida, these are the three major superyacht hubs of the world. This is where you will find hundreds of yachts, crew, shore-based services and a great night life to mix and mingle looking to secure your first job onboard a superyacht.
You will need to time your travel to one of these selected destinations which coincides with the season; Mediterranean season is May to August, from here the yachts will cross the Atlantic Ocean into Fort Lauderdale/Caribbean for the Caribbean season which is December to March.
Once a season ends it's likely some of the crew will leave their current roles, opening up various positions for you or what you may be qualified for. This is why you need to be in the right place at the right time to get that job and have all your qualifications in check.
For the best travel deals and options, visit our friends at Fuzion Travel.
Travel Insurance
As part of your brand new superyacht contract, generally speaking, you will have all of your health insurance and travel paid for, and all medical expenses covered. But this only kicks in once you step foot onto your new yacht.
This is why it is very important to get yourself some travel insurance, to cover yourself if you do happen to encounter some health or travel implications en route which can amount to thousands of dollars, potentially leaving you out of pocket and squashing your superyacht dreams.
Do not fret, our partner Fuzion Travel have got you covered.
Accommodation
Once you've landed you can now get excited about checking into a crew house. A crew house is similar to a backpackers but for yacht crew, both aspiring and seasoned. They are places where you can relax, meet people, learn a lot about the industry, be a tourist, head to a local bar or two, do some networking, and potentially land your first gig.
In any of the three main Superyacht hubs; Antibes (French Riviera), Palma (Mallorca, Spain) and Fort Lauderdale (South Florida, USA), the crew are spoilt for choice in regards to crew houses. Let us make it easy for you by providing the links to all of the crew houses and accommodation options available to you in the yachting destinations.
Facebook and Instagram Pages to Follow
Before you jump on the big bird, we would suggest joining these main Facebook groups and Instagram pages from all around the globe. They are basically open forums where people discuss the full range of topics that we as yachties encounter on a day to day basis.
Although you may not be able to contribute too much, it is a good place to start doing some research about yacht lingo, different locations, the shore based industry, challenges which are faced and how they are overcome, and also to gives you an idea of what to expect when you arrive at one of these great destinations.
Our very own Kiwi and Aussie Yacht Club Facebook group is a great location where you can go to investigate topics and search for jobs more specific to Kiwis and Aussies. Happy Browsing!
Facebook Pages
Instagram Pages
Spotify
And while you're there, don't forget to check out our Yachties of NZ Spotify playlists to jam out to while your sitting in the departure lounge waiting to board your flight to the bright side.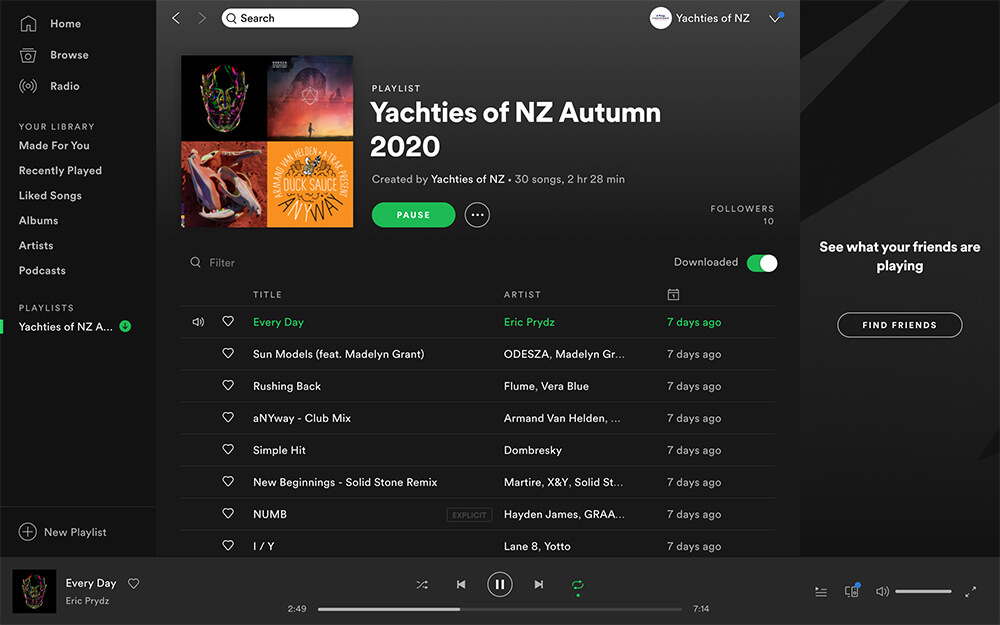 Visa Information
What people don't realise is that you don't necessarily need a visa to travel to these places or to work on a yacht.
In every port or marina, there is an immigration office. Once you join a yacht, a local customs official will visit you on your new yacht and stamp your passport to say you have left that particular country and are now officially in international waters, but don't worry, you are still allowed to go ashore, as it's to show that you are employed on an ocean-going vessel. Once you leave your vessel to either go on a holiday or cease employment, local customs will visit you again to stamp your passport and officially put you back onto land.
at to do once you arrive
Once you have arrived at your local crew house, be it in Antibes, Palma or Fort Lauderdale, it can be very overwhelming. You have arrived in a brand new country, you are confronted with other aspiring crew members talking about a whole lot of stuff you don't even understand, you lay eyes on your first ever Superyacht, and you just want to start working straight away, it's fine we have all been there. Here at YONZ we understand this is a confusing time and want to help you ease through this period.
A job in yachting is secured in four main ways; Facebook, word of mouth/networking, agencies and dockwalking. It is very important as 'Green Crew' (newbies to the industry), that you cover off all of these:
Facebook – Make sure you follow the FB pages we have recommended, keep an eye out for the daily job listings, and apply for the ones which you think may suit you.
Word of Mouth/Networking – Once you have arrived and settled in, make lots of friends in your crew house, go to the yachtie bars and meet current captains and crew, and just basically be social around town. You never know who you are going to meet and where. But just remember to be presentable, professional, and respectful, people are watching.
Agencies – Be sure to register with the local agencies online, give them a follow up email, and go in person to meet them.
Dockwalking – This is where you walk along the docks where all of the yachts are parked up and hand out your CV to the crew on board on the chance they may be hiring a new deckie or steward/stewardess. Introduce yourself, tell them a small bit about yourself, if they want it, hand them your CV, and move on.
Please note, dockwalking for a non-US citizen is illegal in the US. It is deemed to be seeking work illegally, and if caught, you run the risk of being deported.
Daywork:
Daywork is a term used where you are employed by a yacht on a day-to-day basis to help getting larger jobs, or jobs which the current crew are unable to do completed. Daywork is obtained through any of the four above means. You are generally paid in cash on completion of the days work, and you will be paid anywhere from €100 – €150 or $100 – $150 US Dollars per day depending on your location.
Daywork is a great way to gain extremely valuable experience on board yachts before you are employed full time, as well as helping you out financially while you are staying in the crew house.
Also, make sure you put your daywork experience on your CV!!
Saltwater Recruitment
Once you feel you are in the best position to start applying for your first position, register with our amazing friends at Saltwater Recruitment. Monique and the team specialise in Kiwi yacht crew and will do their best to link you up with a yacht and position that best suits you.
Fill out your details below, attach your CV and you'll hear back from the Saltwater Recruitment team very soon.
Congratulations, you are now 100% qualified to become a yachtie!! Now, do you really want to stand out from the crowd?? Get yourself ahead of the pack by taking an extra course or two to make you much more appealing as a 'prospective crew member; demonstrating to a potential employer that you are prepared to go the extra mile to land your first position'.
PADI Openwater – Scuba Diving
You may or may not know this, but when you work on a superyacht, you are fortunate enough to travel to many tropical locations all around the world, it just so happens that a large majority of superyachts are well equipped for scuba diving. It would be a real shame if you were to visit these places but were not qualified to go scuba diving. A lot of positions require you to be qualified scuba diver so you can take guests on scuba adventures, and also to understand, maintain and repair scuba diving equipment which is why we highly recommend you get yourself scuba dive qualified.
There are several operators around New Zealand who run the PADI Open Water. Please explore the PADI Dive Shop Locator to find a location and course suitable for you.
Power Boat Level 2
It just so happens that superyachts hold on board a whole lot of smaller boats which are commonly known as 'Tenders'. When you are employed as a Deckhand on a superyacht it is expected that you know and understands how to drive a tender. To prove to a potential employer you know how to drive one, it is highly recommended to obtain a Power Boat Level 2 Certification to put on your CV.
The Power Boat Level 2 is a two day course designed to train you to drive a tender to the high standards expected from the superyacht industry.
Although you can do your Power Boat Level 2 courses in Antibes, Palma and Fort Lauderdale, it is much more convenient and affordable to do it in New Zealand.
The course can be done in five different locations around New Zealand. Please visit the links below to find the best RYA approved Power Boat Level 2 course best suited to you:
Auckland
Manukau Institute of Technology
Powerboat Training NZ
Coastguard Northern Region
Tauranga
Elements Watersports
Wellington
Ocean Sports
Food and Wine New Zealand Courses
Founded by Celia Hay, the New Zealand School of Food and Wine has been educating the next generation of baristas, chefs, restaurant and cafe owners, wine professionals and food lovers since 1995.
Located in Auckland's Viaduct, our New Zealand Government accredited certificates offer practical hands-on cooking and hospitality qualifications taught by a team of chefs, restaurant managers and wine professionals who are experts in their field and focused on the success of their students.
Food and Wine New Zealand offers three courses that are suitable and beneficial for aspiring superyacht interior crew. Please visit the links below for further course information and enrolment:
Food Safety and Hygiene, 1 day NZQA Certificate
Bartending and Cocktail, 3 nights
Certificate in Food and Beverage, Barista, Wine and Spirits, 16 weeks
Approved Engine Course 1 (AEC 1)
An AEC 1 is an entry-level engineering course designed for people who want to pursue a career as an engineer aboard a superyacht, or for someone who wants to captain a smaller vessel. It also qualifies you to become a Chief Engineer on vessels over 24 metres, less than 200 Gross Tonnes, the main propulsion machinery less than 1500 kW, and restricted to coastal waters no more than 60 nautical miles from shore. It is a four day course totalling 30 hours of theory and practical, covering a wide range of topics in regards to marine diesel engines repairs and maintenance.
Unfortunately, the AEC 1 course isn't provided in New Zealand, but not to stress. Visit the sites below based on the places which may be handy to you and your travels where you can participate in this course:
Certificate in Superyacht Crewing – 12 Week Course
As well as the STCW 95, Mahurangi and NMIT also offer an amazing 12 week course 'Certificate in Superyacht Crewing – Level 3', for the very serious aspiring superyacht crew. The course covers a wide range of areas including the basic STCW, and much other theory and practical aspects, that sets you up incredibly well for a career cruising the world's oceans.
For more information and course enrolments, visit Mahurangi and NMIT website.
Royal New Zealand Yacht Squadron
Here at YONZ, we partnered with the Royal New Zealand Yacht Squadron. Becoming a member of the RNZYS gives you the opportunity to first learn to sail, and also gives you much needed experience on the water; learning the ropes and understanding what it is like to be on the water.
This experience and membership are extremely valuable, especially if you don't come from a boating background. You can also use the opportunity to fine tune the skills you already have, have it on your CV which proves to a potential yacht employer you come from a sailing pedigree, and to be a part of one of the most prestigious sailing clubs in the world; giving you full access to the club, the people (including America's Cup sailors), and its amazing facilities on the Auckland harbour.
Follow the link below to get full information and an $80 discount on the Level 1 Learn to Sail Course.
Note: When booking any sailing course, please add "RNZYS member" in booking to receive discount. Please also add YONZ in notes when processing your order.
Please download and submit the interactive form below, to get your Royal New Zealand Yacht Squadron membership (Up to and including 29 years old).
Get started now!
Start your adventure today by subscribing to us.
You'll receive the latest updates on the world on New Zealand Yachties!